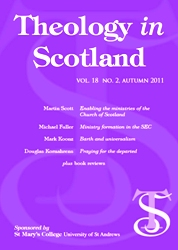 Theology in Scotland is a journal of theology which is general in scope, but which is rooted in the Scottish theological tradition. Founded in 1994, the journal is published in print and online twice a year, in spring and autumn.
The journal publishes articles and book reviews from authors from across the theological spectrum, and particularly welcomes submissions which focus on aspects of Scottish theology. To date, contributions have included: studies of the work of prominent Scottish theologians; responses to current issues in the Scottish church and nation; and aspects of Scottish church history. At the moment, journal issues are arranged thematically.
2022-06-05
A new paper has been added to our special issue The Westminster Confession in the Church of Scotland today
2022-01-10
Contributions are invited for a forthcoming issue on the theme of Church: Virtual and Physical
2019-12-19
Here's what to do if you'd like to renew or take out a new subscription for print copies of Theology in Scotland.